Norton S. Parker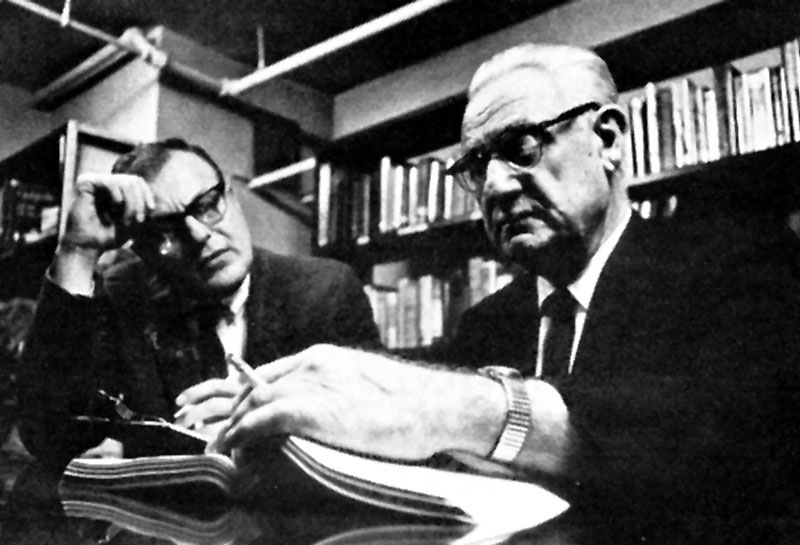 Writer Paul Caster, left, confers with Norton S. Parker, chief of Writers Branch.
Still searching for Norton S. Parker: We would like to hear from the family of Norton S. Parker, to learn more about his service at Army Pictorial Center and now because the family may be due some money for his writing.
In response to the request above, Jerrold Foutz provided some information. "Norton S. Parker was my brother-in-law and I was checking the APC to get information on him for my personal blog (http://www.morningtalks.com,)and I noticed you were looking to contact his family. His wife, my sister, is dead and they had one daughter, Patricia Belle Parker Weise. She would be 70 now and since she had no children, she would be the last living offspring of Norton. I just tried the last phone number I had for her, and it is no longer in service. I will write to the last address I had for her and if successful will give you the information and let her know you are trying to contact her."
The then-future Mrs. Parker was the subject of Foutz's blog, under "My Sister, the Ugly Duckling" at http://www.morningtalks.com/my-sister-the-ugly-duckling.
Donald Fedynak supplied the picture above in response to questions posed by Major (Retired) Richard Green, which were (1) does anyone have a photo of him and (2) did he serve as commanding officer of Army Pictorial Center around 1952-1953? Major Green asked about a photo and sounded confident that Parker had been CO. Green, of the Signal Corps OCS Association, signalocsbw36@se.rr.com, also supplied several names of people who served at the Signal Corps Photographic Center during World War II.
However, Colonel (Retired) Norman Saunders, who served at APC from January 1954 through October 1956 as a second lieutenant in Production Branch's Information Films under Captain Carl Flint, remembered Parker as a retired colonel who was the head of the Writers Branch but "to my knowledge he was never CO of the studio." His basic job was to contract writers, mostly civilian to various projects. There were several military writers that worked under Norton Parker, including Ira Levin, Jack Warner, Jr., and Robert Ervin.
(Posted August 1, 2011; updated February 2 and December 3, 2012, and October 25, 2019.)