Studio Electrical Modernization
The electrical system supplies an essential infrastructure backbone to a motion picture studio, providing the enormous power needs of studio lights as well as all other electrical uses.
Around 1962, as reported in the January 1962 issue of Army Pictorial Center's in-house newsletter, In FOCUS, the studio's electrical system underwent its third overhaul (counting the original installation), all done by the same company.
In 1919 E-J Electric Installation Co. of New York installed all original facilities for producing silent pictures in what was then the Famous Players-Lasky Studios (Paramount Artcraft Productions).
Then along came sound motion pictures, and the same firm wired Paramount Studios for sound and moved the entire D.C . generating equipment, switchboards and bus feeders to Building No.2.
Then in 1962 anew distribution system with modern master switchboards--work involving the replacement of feeders which had reportedly deteriorated due to normal life expectancy, replacement of lighting and power panels which control all lights, receptacles, air conditioners, and other facilities--was being installed by E-J Electric Installation Co., that did the original work in 1919.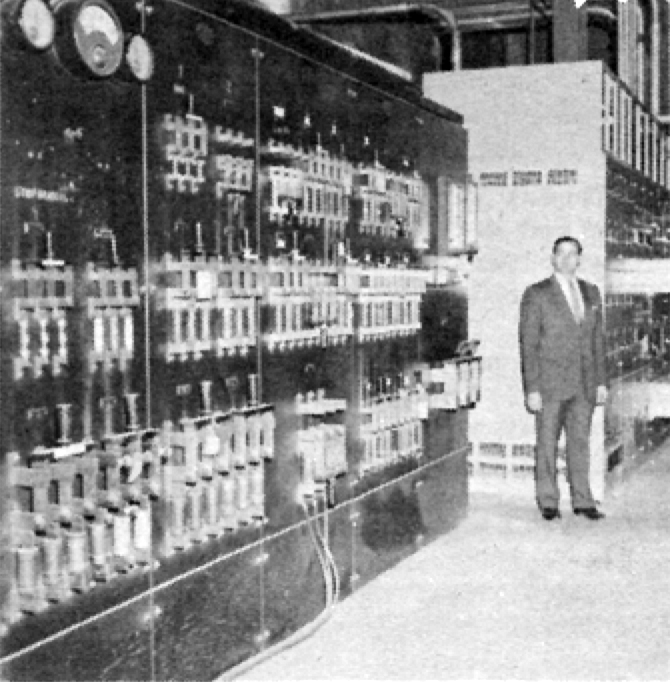 Jack R. Mann supervised the original work and by 1962 was president of the firm, while his son, J. Robert Mann, Jr., was in charge of the the modernization project.
This story was included in the January 1962 issue listed at In FOCUS.
(Posted October 7, 2020.)