Ira H. Genet
Captain Ira H. Genet served at the Army Pictorial Center for his annual training, but his activities went far beyond that, according to his grandson, Nicholas "Nick" Genet. "My grandfather was a fascinating man. He was a walking encyclopedia, an academic, a writer, a filmmaker, and worked in various other roles both governmental and non-governmental."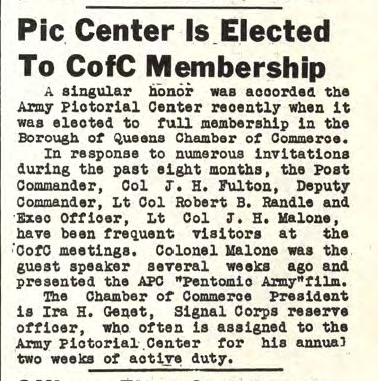 One of Captain Genet's contributions was reported in the December 1959 issue of the APC newsletter, In Focus, in the article shown here. It was no accident that APC became a full member of the Queens Chamber of Commerce in 1959. Genet was "the longest serving Chair of the Chamber of Commerce for Queens and he was instrumental in Queens being chosen for the 1964 World's Fair."
Genet "was born in 1903 and passed away in 1977.
"He served in the United States Army Signal Corps ... (and) saw multiple assignments including Caserta Italy.
"He worked for MGM prior to WWII and worked in the film industry extensively following the war."