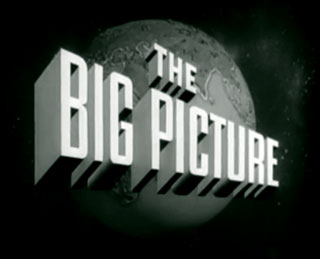 The Big Picture
is available on DVD and Online!
The National Archives and Records Administration has made individual episodes of "The Big Picture" available via Amazon. Episode DVDs can also be copied for free by visitors to NARA's College Park, Maryland, facility. And many complete episodes and clips have been posted on YouTube.
Jilly Dybka wrote, "There are a ton of episodes of The Big Picture (and other Army Pictorial films) at the Department of Defense FedFlix archive at http://www.archives.gov/ where they can be downloaded for free by anyone." Jilly has prepared a helpful list of links to Big Picture titles.
Beginning in 1951, this ground-breaking series appeared at a time when television news was in its infancy. Weekly episodes featured current events (such as the progress of the Korean War), history and inside looks at Army life. Professionally produced at the Army's full-service motion picture studio, The Big Picture combined studio settings, location photography and combat footage. The Army used its unique access to bases around the world, cooperation of top commanders, availability of skilled actors -- some of whom started their careers on the Astoria stage -- and a comprehensive library of Army film footage to present television documentaries that rivaled anything then seen on the small screen.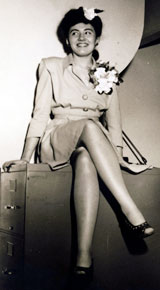 Film editor Rita Baducci Pinchiaroli
was photographed at APC in February 1945.
A FOXHOLE ON WHEELS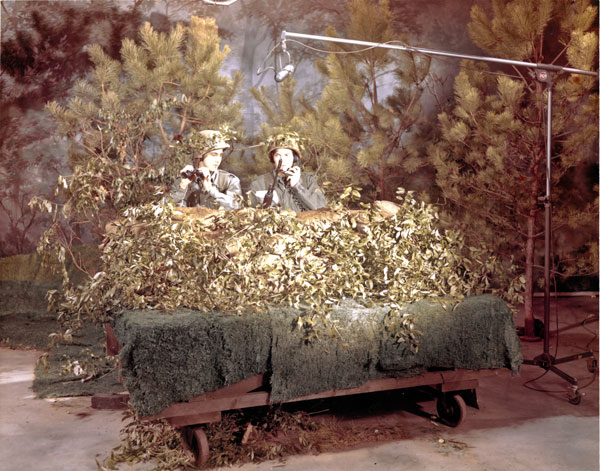 Actor Lloyd Bautista, on the left in the photo above, was one of many young actors who appeared on the Army Pictorial Center sound stage and went on to a successful career in acting. This is one of a collection of photos from APC supplied by Ron Hutchinson.
OTHER PHOTO UNITS: 497TH SIGNAL COMPANY
Chuck Lewis supplied some notes about photo duty in Europe in 1952.
ANIMATOR TO DEMOLITIONIST
When the newly-created Special Forces made a film at Army Pictorial Center, PFC Ron Rozewski was inspired to transition from an APC animator to a Special Forces demolitionist. Click here to read more.
IS THERE MORE FOOTAGE?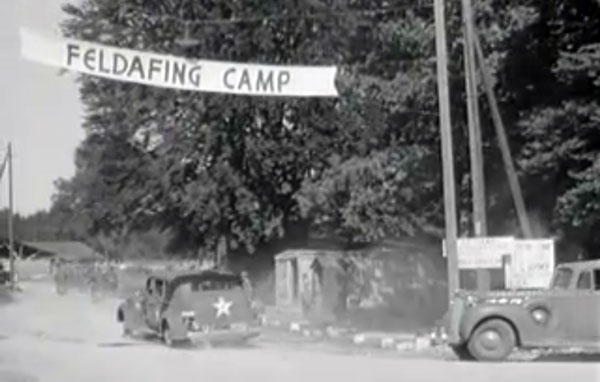 When General Eisenhower visited Holocaust survivors at Displaced Persons Camp Feldafing on September 17, 1945, it left a profound memory of "… the encouragement and solace they all drew from (then) General Eisenhower's visit to the camp."
Silent footage from the visit is posted at the United States Holocaust Memorial Museum at http://www.ushmm.org/online/film/display/detail.php?file_num=1133. The footage, shot by motion picture cameraman Lambert of the 165th Signal Photo Company, may not be complete, although the National Archives and Records Administration has been unable to find more.
Rachel March, the daughter of two of those Holocaust survivors who were at Feldafing is looking for more footage or photos of that visit.
"The entire Jewish community felt uplifted by that exciting visit," she wrote. "Grand Rabbi Solomon Halberstam, who had himself lost his wife and entire family in the Nazi inferno led the congregation, (who interrupted their Yom Kippur prayers for this occasion) in welcoming this highly esteemed visitor and his entourage.
"Today, there are thousands of descendants of those who were present at that event who yearn for the opportunity to see additional footage of that visit, specifically of General Eisenhower meeting with Rabbi Halberstam and his Jewish Congregants."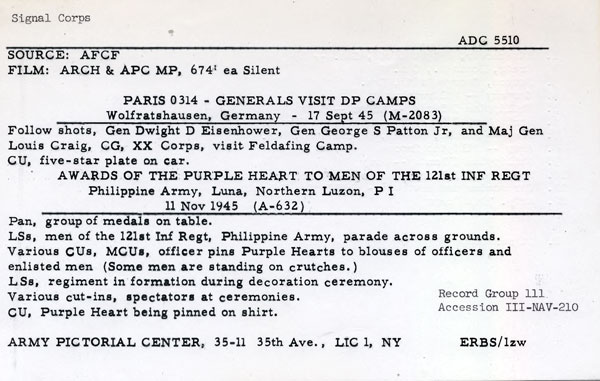 The shot list, apparently from the card file at the Army Motion Picture Depository, then co-located with Army Pictorial Center in New York, suggests the footage is complete. Rachel March remains anxious to find out if there is more footage of the event.
If you have any information about footage or photos of the Feldafing event, please send it to jmarch@monroebus.com and/or to the Army Pictorial Center webmaster.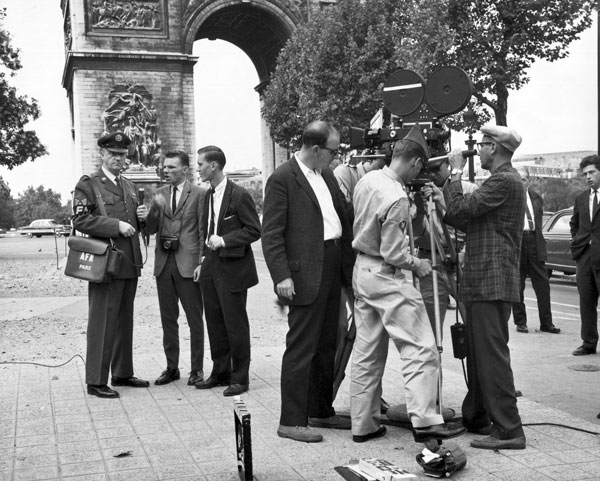 Army Pictorial Center personnel and the 69th Signal Company (Photo) shoot footage in Paris for a 1962 episode of "The Big Picture" in this photo supplied by Robert Rosenthal.

ANOTHER APC ALUMNUS FOUND!
Glenn A. Sears wrote, "I'm planning a trip to NYC in April and I checked to see if the Army Pictorial Center was still in Long Island City. I was stationed at the pic center in 1957-58. I spent some time working on The Big Picture but most of my time was on TDY to the Los Alamos National Laboratory where I photographed the bomb tests in Eniwetok. I was an SP4 when I arrived at the pic center and was promoted to SP5 when my part of the organization was deactivated. When I left Eniwetok I was discharged at Fort Hamilton.
"I notice that I am not in the roster on your website although my old friend, Pete Turner, is there. We both transferred to the pic center from Ft. Harrison, IN."
Sears has been added to the Personnel Roster.

After APC: When the Army Pictorial Center closed in 1970, many of its personnel and functions transferred to Redstone Arsenal, Alabama. Redstone Building 4489, (above) was the laboratory and studio building where the contractor worked in a Government Owned/Contractor Operated arrangement. The 4489 facility is gone now, replaced by Army Material Command headquarters.

Army demonstrated drones for reconnaisance
In the 1950s, the Army demonstrated an unmanned aircraft. In The Big Picture Pictorial Report No. 17, visitors to Ft. Huachuca, Arizona, saw a launch of the RC-71 Reconnaissance Drone, a 12-foot, 350-pound, remote-controlled aircraft that carried Signal Corps film cameras to deliver reconnaissance within an hour. See the link at The Big Picture Catalog, or view the video online at Archive.org.
Book editor seeks rights to D'Addario photos
Questions about photographer Raymond D'Addario raise more questions, as is often the case with this jigsaw puzzle that is the history of Army Pictorial Center. A book editor is seeking permission to use D'Addario's Nuremburg photos. We need your help.
While this website collects APC history, we have also accumulated names and information about other Army photographic units. We don't have any information about Raymond D'Addario or his work. If you can provide any information, please contact the APC Webmaster via e-mail.
The query we received said, "We are currently working on an illustrated book on the history of German pencil manufacturer Faber-Castell. One chapter of the book is dedicated to the post-WWII era in Nuremburg (the city where Faber-Castell is based). The Army Pictorial Service photographer Raymond D'Addario, whose iconic photographs of the Nuremburg war crime tribunals gained fame the wolrd around, is one of the main characters in this chapters."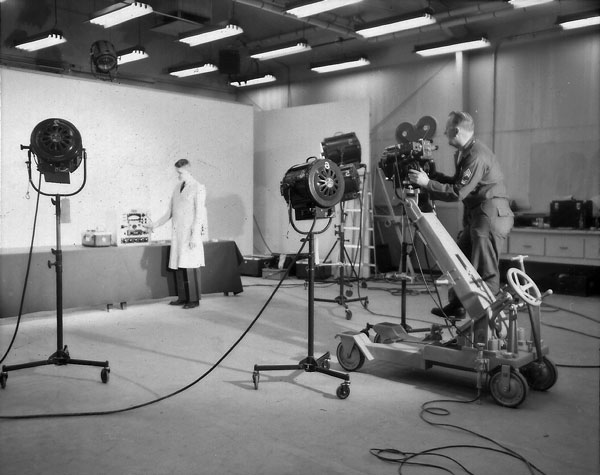 A daughter's memories of her dad at APC.
Photos provided by Adrienne Shane Esposito include this picture of her dad, Master Sergeant Theodore F. Shane, behind the camera at APC in the early 1960s.
Signal Corps Mobile Television Unit
In the early 1950s, Signal Corps Pictorial Center was home to a mobile television unit evaluating and demonstrating the potential use of this developing technology. Dick Robinson and Edward Boykin supply details and photographs.
Film industry in WWII:
Producer needs film, stills;
Personal collections sought
A French film company writes,
"We are currently in development of a documentary film about Hollywood Film industry during WWII.
"We are more precisely in search of photos and film footage concerning the involvement of Hollywood (directors, movie stars,...) in the war, directly (being enlisted, or in charge of filming battles, or directing training films) or undirectly (filmed during showes held for troops,...).
"We are very aware of Library of Congress and Nara's (National Archives and Records Administration) collection concerning this subject, but are looking also for more private or personal collections, which could help us find some more unreleased or badly known material.
"More specifically, we are looking forward to locate photos and/or footage of the following persons, during their involvement into Army Pictorial Center : John Ford, Sterling Hayden, George Stevens, Owen Crump, William Wyler, Darryl Zanuck, Franck Capra, Jack Warner,..."
If you know of collectors who may help, please forward a link to this site to them. If you have any materials or information -- or would like contact information for this French film company, please write to the Webmaster.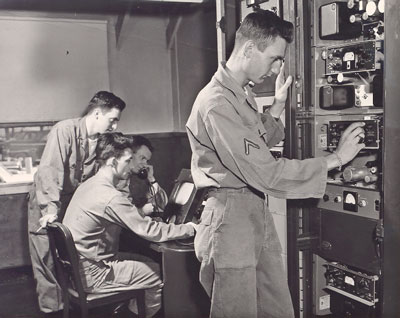 Signal Corps Mobile Television Unit
In the early 1950s, Signal Corps Pictorial Center was home to a mobile television unit evaluating and demonstrating the potential use of this developing technology. Dick Robinson and Edward Boykin supply details and photographs.
"In typical Army fashion, the barracks we slept in were NOT air conditioned, but the vehicles were to keep the tests constant. WOW!" Fred Harris recalls some of his assignments while at APC.
Television photographers and sound men
sought for interviews on PBS series
I'm working on a PBS series that focuses in part on the Civil Rights Movement and I'll be producing a segment on how news was gathered and disseminated during that time by photographers and sound men who utilized "mobile" ENG technology before it was even identified as such. Their heroic efforts brought the Civil Rights Movement into the homes of many Americans who had little or no idea about what was going on in the South at that time. I'd like to find any of those that remain and possible have them tell of their experiences.
Editor's note: This may seem an odd request on the APC website, but many of the military and civilian employees at Astoria worked in the film and television industries before or after their time at APC, this query seems intriguing. If you can provide information, write to the Webmaster.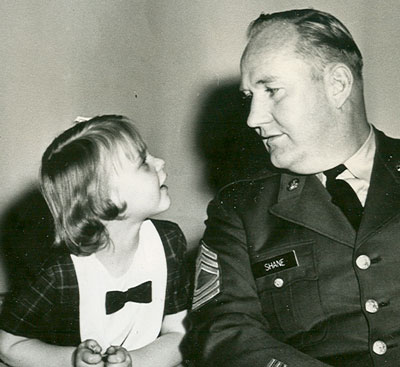 A daughter's memories of her dad at APC.
More about Norton S. Parker
Norton S. Parker's brother-in-law provides the latest about Parker. We still would like to hear from anyone with information about his service at Army Pictorial Center. Write to the webmaster.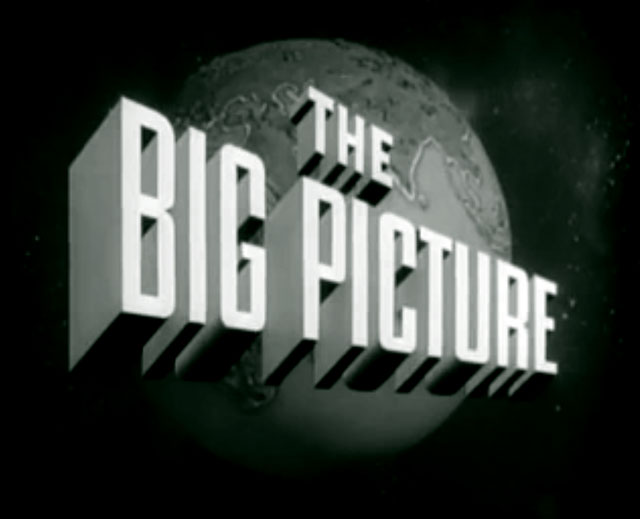 The Big Picture Catalog
"Is there a comprehensive list of when each episode of The Big Picture was released?: asked John Simpson of Kennesaw, Georgia. "I see on the website an occasional reference to episode so and so being in the 1962-63 season." The answer is a partial "yes." A compilation of annual catalogs of episodes of The Big Picture lists production numbers, titles and in many cases other information, but the list is still incomplete. Click here to see the catalog.
Cameraman Bernard J. Shapiro
"Did a SHAPIRO,BERNARD J. ever work as an Army cameraman in Vietnam?" asked Roger Hawkins, formerly with the 221st Signal Company (Photographic) in Vietnam. "Looking for a guy that filmed the return of a rescued Air Force pilot." Shapiro is listed on our Personnel Roster with Studio Branch, but we don't have any more information. It you can answer the question, send an e-mail to the Webmaster.
TV host detained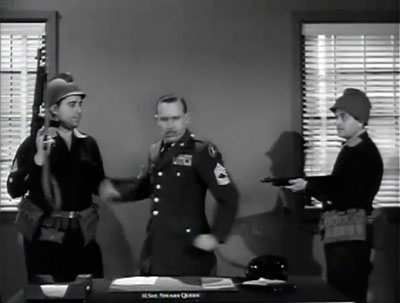 Master Sergeant Stuart Queen is detained and escorted from the set of The Big Picture in an episode of the Army's weekly television program dramatizing the Army's war gaming. Peter Anderson asked, "I vaguely remember the host of 'The Big Picture' being escorted from the set by military or Pentagon police, and the episode going to commercials. Did this occur, and when and to whom if it did occur?" Stephen Brittenham of Albuquerque supplied the answer, with a link to YouTube. "I think this may be what he is referring to: http://www.youtube.com/watch?v=Eczdl5pBiFg&feature=related." This episode, "The Aggressor," appears twice in The Big Picture catalog at TV 362 and TV 555.
Coverage of atomic tests in the 1950s was a classified assignment for Army Pictorial Center personnel. Ernest C. Baumert helped make it a success. As chief of Maintenance and Engineering Branch for APC, Baumert designed the remote, sequential camera array and operated cameras at the tests.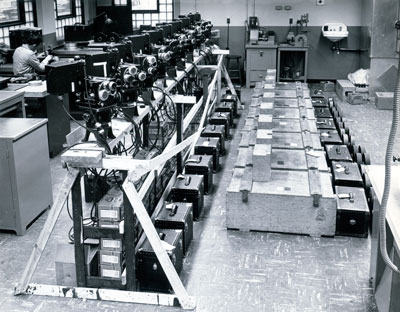 The camera sets used to photograph atomic tests were assembled at APC.
Dale Young, who recorded narration for The Big Picture and training films, recalls dating Jackie, secretary to post commander McCreary in 1957. "Since I'm now 83, Jackie's last name eludes me, and I'd be very grateful if anyone can let me know what it was. If she's still around I'd love to get in touch with her." See the Help page.
"... we shot many pieces of various films for the Big Picture on the Sgt. Bilko sound stage." Fred Harris supplies some recollections.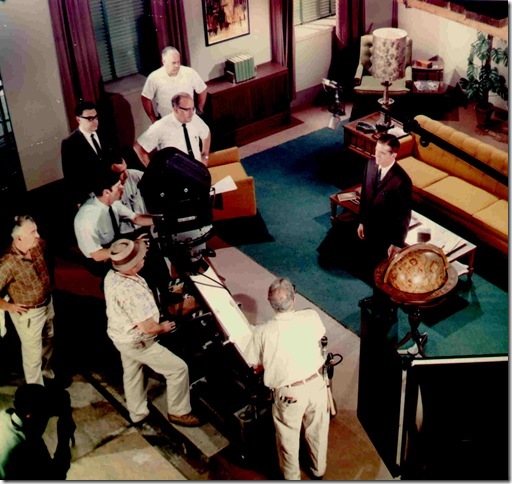 This APC crew filming Dana Andrews on the Main Stage, included former Marine Jerry J. Nugent who recalled, "I had been hired as an assistant cameraman! That was the highlight of my life, as I had long dreamed of working in a real studio, during "real" production work." Nugent later was promoted to Motion Picture Cameraman.
"We made kinescope recordings ... and also a mobile unit that went out in the field to show how and how not to use closed circuit TV and films from the electronic media." Norman Roder is among the few alumni have written to provide information about television at APC.
Who was Norton S. Parker?
The questions about Norton S. Parker now include (1) does anyone have a photo of him and (2) did he serve as commanding officer of Army Pictorial Center around 1952-1953? Norman Saunders supplied some information. See the Help page.
Naming names
Retired Colonel Norman Saunders wrote to add names to the Personnel Roster for Zack (Stan) Cherry, Jim Willey, Bob Erwin, Major Carl Flint, and Jack Warner Jr.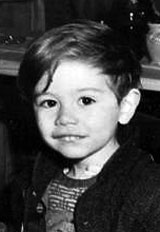 "Johnny died as an American, a happy teenager, and in FREEDOM." A Signal Corps photograph leads to a poignant story of a little boy and answers a query on our Help page. Read the story behind the photograph from Operation Mercy.
"Incredible, horrifying photos"
Daniel Glick took pictures of conditions at Orthduf concentration camp while serving with the 69th Signal Battalion in 1945. Looking for those lost photos that he sent home, his daughter was glad to learn something about the 69th Signal Battalion.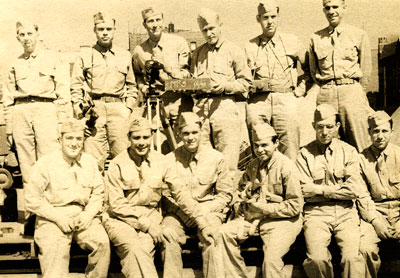 Signal Corps photographers in 1942's Class 3 at the Signal Corps Photographic Center include Jackson B. Pokress, seated at far right, and Jeffrey Lynn, standing third from left.
When the Army established the Signal Corps Photographic Center at the former Paramount studio in Astoria in 1942, men with experience in film and photography answered the call. But, according to Jackson B. Pokress, who was among the first at the new Army post, "Those from Hollywood got all the rank, New York guys got nothing."
Part of the reason was that not too many people except those from Hollywood had worked in the film industry. There were many news photographers. "If you were from Hollywood, whatever you told the Army, they believed it. There were guys running around with all kinds of rank, but they didn't know anything."
Pokress adds names from the early days to the Personnel Roster, such as cinematographer Stanley Cortez, writer Mel Brooks, Danny Novak, Bill Safron and Bill Beedle (later known as William Holden.)
Read Pokress' first-hand memories of Astoria in 1942.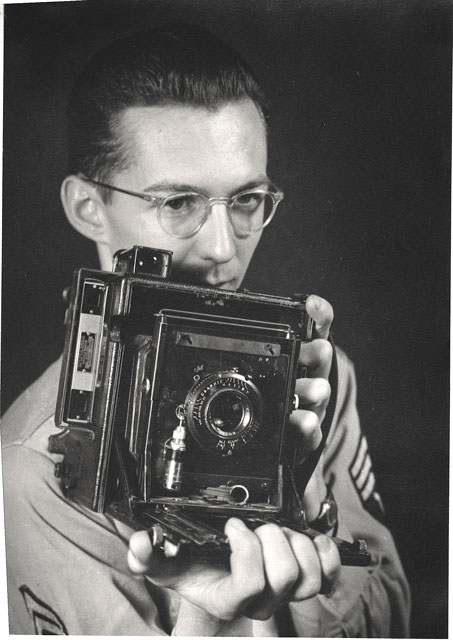 George M. Kotuby
was typical of young GIs who served at Signal Corps Photographic Center, shown here with the standard GI issue 4X5 Speed Graphic in 1947. Kotuby wrote, "I was stationed at SCPC from December 1946 until October 1948 when all the photo schools were moved to Ft Monmouth. I started as a student, pulled from class about three weeks before completion and sent to Ansco Corporation in Binghampton, NY, with three others. We were to be trained in the new Ansco color process. I returned to SCPC to set up the first darkroom color processing course and became the Senior Instructor in the Darkroom Technician's School. I was a staff sergeant." Kotuby provided a number of photos from his SCPC days. Click here to see more.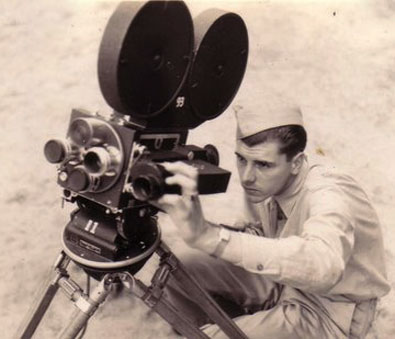 Sergeant Albert E. Glocker
was a motion picture photographer who trained at the Signal Corps Photographic Center Photo School in 1942 and went on to serve in Combat Photo Unit 10 in the South Pacific. His daughter, Lynn Glocker, tells the story and provides photos. Former First Lieutenant Don Mittelstaedt describes how Combat Photo Unit 10 operated to produce photos that became part of the Army's pictorial archives.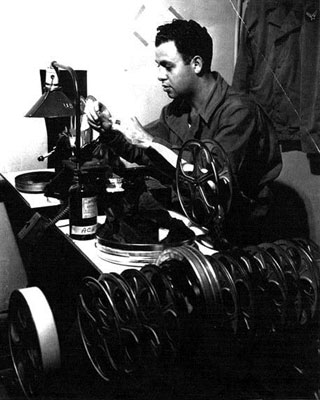 Stanley Frazen
honed his talents as a film editor in the Signal Corps beginning in 1942.
Like other GIs at the studio, he went on to a successful civilian career, editing television shows and also serving as president of the Motion Picture Editors Guild and the American Cinema Editors.
Naming names
Former Chief of Production Ray Nesbit supplied some interesting names to the Personnel Roster, including actors Lloyd Battista and Peter Bonerz, Director George Keathley and actors Robert and Mary Ludlum, a decade before Bob began his Jason Bourne books.
"The supply sergeant would tell us in his gravelly voice, 'now youse guys be sure to use plenty of fillum!'" Oliver Bryk remembers off-duty photo training.
Paul Fanning had a varied and colorful career that included time at Army Pictorial Center, according to Bernard S. Neville.
Director Stanley "Tim" Swed is identified by son Dennis.
When Gary Crosby threw a temper tantrum on the APC main stage, Phil Silvers yanked him to his feet, chewed him out for acting like a baby and threatened to tell his dad, Bing Crosby.
John Cochran,
ABC's senior Washington correspondent and former NBC newsman, was a TV Division production specialist at Army Pictorial Center from 1961 to 1964, reported Ray Nesbit. If you have information about APC alumni, send an e-mail to the Webmaster.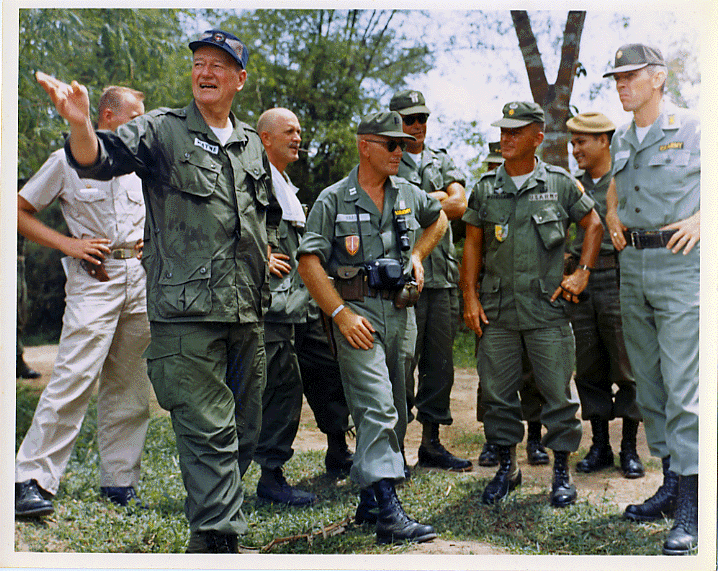 John Wayne
was one of many talented people who brought their skills to Army Pictorial Center / Signal Corps Photographic Center, as soldiers, civilian employees, or as well-known entertainers. Wayne appeared as the host narrator of a 1967 episode of "The Big Picture," episode number TV-695 titled "A Nation Builds Under Fire."
Col. Melvin E. Gillette
What happened to the plaque used in the dedication of the Sixth Army's Gillette Photographic Center at the Presidio of San Francisco? Family of Col. Melvin E. Gillette, the first commander of Army Pictorial Center, would like to know. Read more about Col. Gillette.
Sunday, July 10, 2016 12:15:44 PM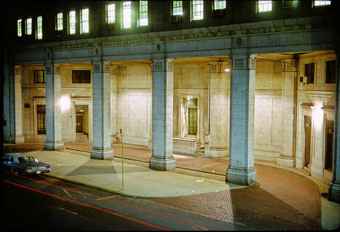 Main Entrance
The main entrance to APC at night
was photographed by Bill Ricks,
who supplied a few of his color slides from that era.
Yes, we still need your help to answer the questions about SCPC/APC and films made there.
Who was Jerry, the editor on "Public Shelter Living: The Story of Shelter 104"?
Was Dorothy McManus the original Emmy, the model for television's top award?
See if you can answer any of the questions on the Help page.
Building 13
Army Pictorial Center's former Building 13 is now the site of the Museum of the Moving Image.
The museum recently completed a stunning renovation, which was reviewed in the January 13, 2011, edition of The Wall Street Journal.
As described on the museum's website, "The Museum of the Moving Image advances the public understanding and appreciation of the art, history, technique, and technology of film, television, and digital media. It does so by collecting, preserving, and providing access to moving-image related artifacts, screening significant films and other moving-image works, presenting exhibitions of artifacts, artworks, and interactive experiences, and offering educational and interpretive programs to students, teachers, and the general public."
When you're in New York, be sure to visit:
MUSEUM OF THE MOVING IMAGE
36-01 35 Avenue, Astoria, NY 11106
718 777 6800
Read more about what happened After APC.
1960 Hawaii tidal wave footage
Motion Picture Photographer SP4 Kenneth J. Moyer wonder if his film of the destruction of Hilo, Hawaii, by a tidal wave in 1960 might be provided to the museum in Hilo. See the Help page for more.
Yes, we still need your help to answer the questions about SCPC/APC and films made there.
Researcher Jeff Grehan wrote to ask if anyone had answered the query from an Italian documentary film production about "Invasion of Poland," a Film Bulletin produced by Signal Corps Photographic Center. Not yet, but it's never too late to submit an answer, to supply one more piece to the incomplete jigsaw puzzle of APC's history. See if you can answer any of the questions on the Help page.
Too Late: A handful of officers were on orders to APC when closure loomed.
New names on the Personnel Roster:
Neil Upchurch was a lieutenant in the TV Division from 1956 to 1958, when he worked on the 26-show recruiting series, "Get Set – Go," and presenting "TV in the Army" briefings at West Point and Fort Devens.
Bill Proctor trained in the photo lab under William Kintzler and also knew Sergeant Norman Parkhurst. He lived in the barracks across the street from the studio. "When I shipped to Vietnam they gave me an Elmo and I was assigned as a Combat Photographer while there."
Peter Sambogna was SP5 Sambogna when he worked in the message center for Post Adjutant, Major Sara Benham, and Sergeant Major Earl Ray, from May 1961 to October 1963.
1962's "Operation Overseas," directed by Charles I. Turner and featuring actor John Armstrong, is the subject of a query from Verona, Italy, by Giovanni Zantedeschi, whose father appeared in the film.
What happened to information about Bruce Hugo?, wondered Geoffrey T. West, who wrote, "I was a clerk in the Adjutant's Office - Major Eleanor Burt - and worked with Precioso Nicanor from April 1, 1964 until I left for Warrant Officer Flight School in October, 1964. During that time I met and made many good friends. One of them, Bruce Hugo, had a comment posted at the APC site for quite some time. Now I can no longer find it and wondered what happened to it?" (Answer: Bruce Hugo has a listing on the Personnel Roster that links to a page featuring his comments.) "Also, wanted to let others know that our friend, Joseph (Belton) Bihm, who was a cameraman at the APC from 1963 until around 1966 has recently passed away from a brain tumor just a week before his 71st birthday."

Actors Lloyd Battista and Peter Bonerz worked at APC's TV Division in the 1960s. Battista, who subsequently appeared in many films and television series, was an SP4 who worked in the studio as a production specialist.
Ralph F. Magrino served as fire chief at the Signal Corps Photographic Center from 1942 to 1944, reported his granddaughter, Betty Magrino English, adding another name to the Personnel Roster.
"Orphan" Dennis Benfante is looking for the 1959 film in which he appeared with Bob Craven.
Was 'The Big Picture' host escorted from the set by military police? Peter Anderson inquires.
LT Gordon A. Benoit who served in Directors Branch around 1963 is the subject of a query.
The film "Evolution of the Attack Helicopter" is being sought by Historic Stock Footage.
Does anyone have knowledge or film from a 1950s production, "Get Set, Go," or Thomas G. Macaluso, who played the xylophone or marimba with a U. S. Army combo?
Sperry Gyroscope Company is an unusual topic for a Help Request, but Dr. Jack Binder, archivist for the Town of North Hempstead, seeks photos or information.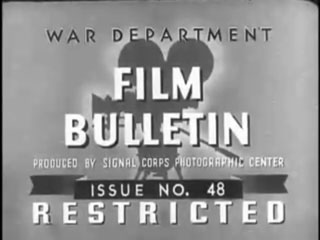 "Invasion of Poland," a Film Bulletin produced by Signal Corps Photographic Center is the topic of a query for an Italian documentary, which also highlights the availability of the film on YouTube.

A 1957 photo shows Colonel McCrary with visiting officers including Colonel Ping-Tai Fei of Taiwan
Does anyone remember a 1950s film on conduct for captured soldiers?
Do you know anyone who served in Army television communications during the Cuban Missile Crisis? Tom Morton asks.
Information about Chief of Sound Branch Tom Hanlon is needed.
Photos of Director Vibo Valenzio are still sought both by us and by Vibo's family.
Captain Gaetano Faillace, former personal photographer to General Douglas MacArthur, is remembered by another APC alumnus, D. S. Ross.
An M1C Signal officer helmet is the subject of a request from re-enactor Robert Mary of Belgium.
Adams Kenneth, Anthony Kelly, Louis Leinbecker and Albert Rielson are sought for information about Alexander J. Malashuk and a film that Malashuk shot in Hachioji, Japan, on September 15, 1945.
Footage or photos of either the NORAD Band OR the Studio band from the late 1960s is sought by the son of John Gates, one of the bandsmen who appeared with the band in an episode of The Big Picture.
Can you help with this mystery? What was Nat Roger Knaster doing as a photographer/foreign correspondent in places like Madrid, Cairo and Italy during World War II. That's what his nephew, Fred Schock wants to know.
War-time personal recordings for postal mail exchanges, and the technology of kinescoping are topics sought by a free-lance writer developing a book about rarely defined aspects of communications' history.
Was Col. James B. Buchanan a former newsreel cameraman?, asks the curator of the Fox newsreel collection at the University of South Carolina.
You can find films, photographs and other records at the National Archives and Records Administration. The collection is housed at NARA's College Park, Maryland, facility. Visit the National Archives online at http://www.archives.gov/
Still reaching audiences: "The Big Picture" can be seen on the Pentagon Channel.
Over 340 episodes of The Big Picture are available at Amazon.com, according to retired Master Sergeant Carl Mueller, who comments on this groundbreaking television series.