"Incredible, horrifying photos."
Photos of conditions at a German concentration camp liberated by General George Patton's XX Corps may be lost, but the memories linger for the daughter of the soldier who took the pictures. Bonnie Witler wrote that her father, Daniel Glick, was a radioman between the 69th Signal Battalion and XX Corps when he took pictures at Orthdruf, a subcamp of Buchenwald, in 1945.
Bonnie regrets losing track of those photos. "My mother had incredible, horrifying photos that my father sent home of the camps. Unfortunately, when he passed away she gave them to a museum that folded. I was too young to care about this at the time, only 25. I have been trying to track them down."
Bonnie's search for her father's experience brought happy results. "Some really kind people helped me get his DD214, discharge papers. Then I inquired of the U. S. Army Military History Department, and they sent me a 25-page historical, very detailed account of the 69th Signal Battalion's activities!
"It did not say if they were liberators or not, but I know that Patton ordered all soldiers and officers in the vicinity to visit. Since my dad spoke fluent German (because of his Yiddish,) he probably served as an interpreter in that horrible place.
"A 93-year old veteran told me a while ago that whether a soldier was the one to literally first open the gates or whether he came in with his unit days later, they all considered themselves 'liberators.' For a Jew you can imagine how intense this was. The inmates were said to have been incredulous, 'You're a Jew? You're a Jew?'"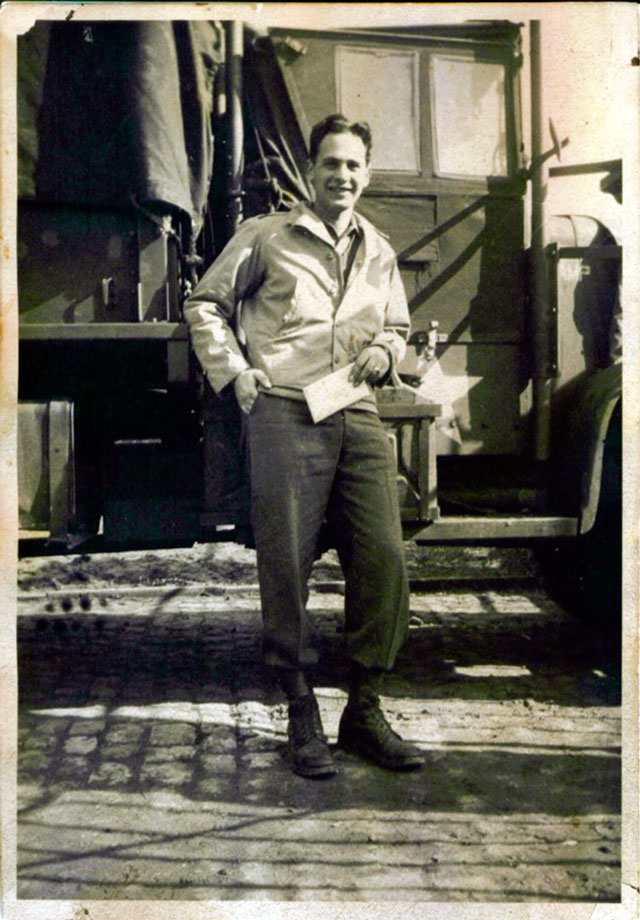 Daniel Glick
(Posted July 10, 2016, updated September 5, 2018.)