196th Signal Photo Company
Tom Sullivan wrote, "Julie Jones and I recently received the command history of the 196th Signal Photo Company from the National Archives. Summary report was written in November 45 when the unit redeployed to Camp Gruber, Oklahoma.
"We continue to gather information on her late stepfather, T/Sgt. Edmund Burke O'Connell.
I'm sending the piece (below.) I retyped the report which appeared to have been originally typed on onion-skin paper."
Tom Sullivan (tomsull27@yahoo.com) and Julie Jones, Pacifica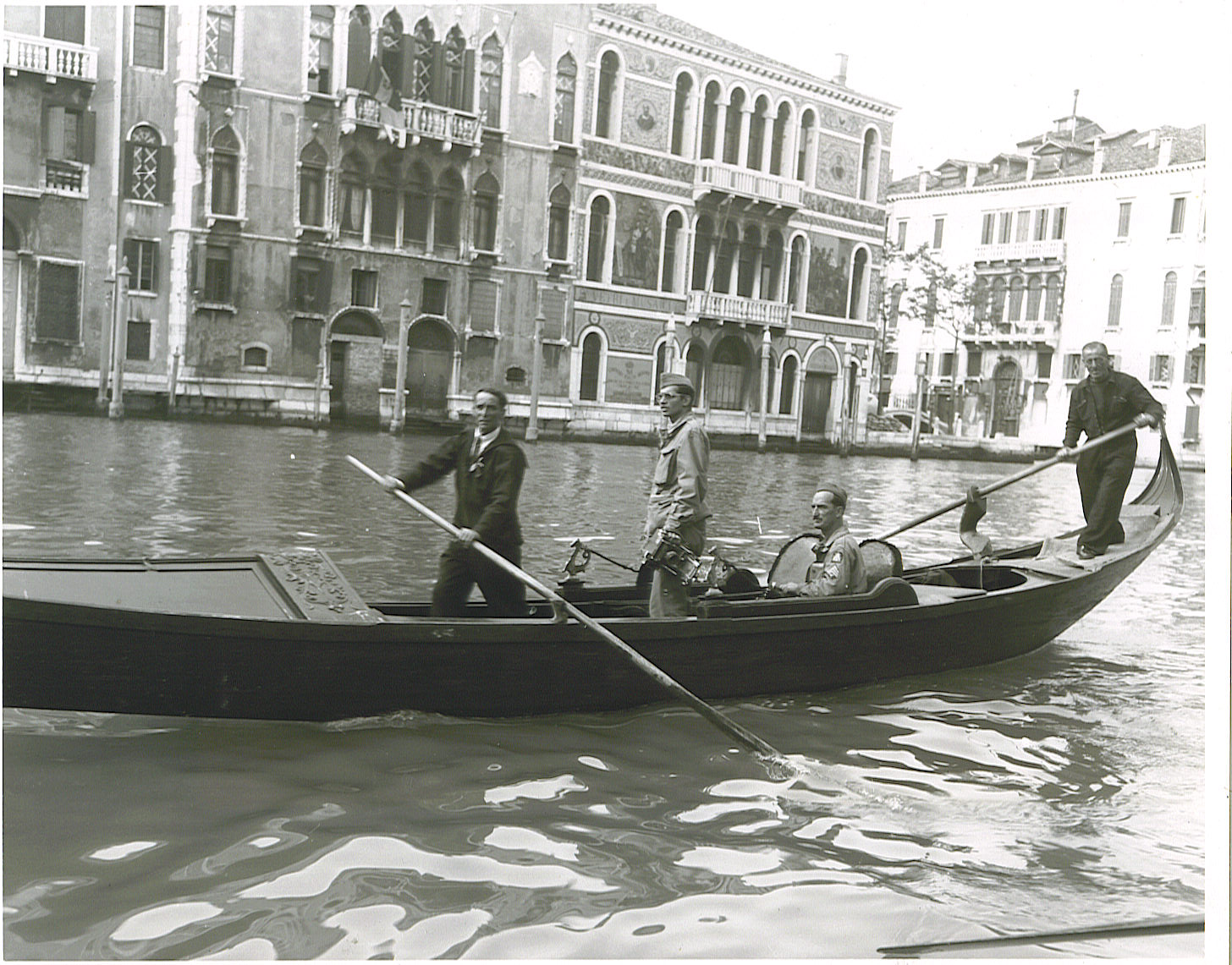 ITALY – U.S. 5th Army photographers, T/5 Sam Spirito, and T/4 Martin Brooks of the 196th Signal Photo Co. tour Venice, Italy in a gondola. 1 May 1945
HEADQUARTERS
196TH SIGNAL PHOTOGRAPHIC COMPANY
CAMP GRUBER, OKLAHOMA
1 November 1945
SUBJECT: Histories of Subordinate Units
TO: The Adjutant General
War Department
Washington, D.C.
(THRU CHANNELS)
Chronological History

Original Unit
(1) Designation: 196th Signal Photographic Company
(2) Date of Organization: 24 February 1945
(3) Place of Organization: Trespiano, Italy
(4) Authority for Organization: Sec. III, GO #19, Hq Fifth Army, cs, under T/O & E 11-37.
(5) Sources from which personnel was obtained, i.e., by transfer from other units, voluntary enlistment, or draft: 3131st Signal Service Company.
Changes in Organization: None.
Strength, commissioned and enlisted.
O WO EM
(1) At beginning of period: (24 Feb) 10 1 97
(2) Net increase each month:
31 March 1945 1 0 5
30 April 1945 2 0 10
31 May 1945 2 0 0
30 June 1945 1 0 17
31 July 1945 1 0 1
31 August 1945 0 0 0
30 September 1945 0 0 0
(3) Net decrease each month:
31 March 1945 0 0 0
30 April 1945 0 0 13
31 May 1945 0 0 0
30 June 1945 0 0 0
31 July 1945 0 0 0
31 August 1945 0 0 0
30 September 1945 8 1 50
(4) At the end of period: (2 Nov. 45) 5 1 55
Stations (permanent or temporary) of unit or parts thereof:
24 February 1945 arrived Trespiano, Italy
27 April 1945 left Trespiano, Italy
28 April 1945 arrived Verona, Italy
31 May 1945 left Verona, Italy
1 June 1945 arrived Montecatini, Italy
4 July 1945 left Montecatini, Italy
5 July 1945 arrived PBS Staging Area, Pisa, Italy
11 July 1945 left PBS Staging Area, Pisa, Italy
12 July 1945 aboard USAT Henry Gibbons
24 July 1945 debarked USAT Henry Gibbons
25 July 1945 arrived Camp Patrick Henry, Virginia
27 July 1945 left Camp Patrick Henry, Virginia
28 July 1945 arrived Camp Gruber, Oklahoma
2 November 1945 inactivated Camp Gruber, Oklahoma
Marches: None.
Campaigns:
North Appennine Campaign 24 February 1945 to 23 April 1945
Po Valley Campaign 24 April 1945 to 8 May 1945
Battles: None
Commanding Officer in Important Engagements
Captain Ned R. Morehouse
Losses in action; officers and men: None.
Former and present members who have distinguished themselves in action:
North Appennine and Po Valley Campaigns. Awarded Bronze Stars for meritorious service: SSGT John J. Mulcahy, 2d Lt. Louis J. Murcho, Jr., 2d Lt. Robert H. Schmidt, 2d Lt. Harry L. Kreider. Bronze Star Cluster awarded to 1st Lt. Frank L. Morang. Legion of Merit for meritorious service awarded to 1st Sgt. Charles O. Baker.
k. Photographs of personnel, important scenes of events: none.
/s/ FRANKLIN CAVE
1ST Lt., C.M.P.
Commanding
HEADQUARTERS
196TH SIGNAL PHOTOGRAPHIC COMPANY
CAMP GRUBER, OKLAHOMA
26 October 1945
SUBJECT: Histories of Subordinate Units
TO: The Adjutant General
War Department
Washington, D.C.
(THRU CHANNELS)
The 196th Signal Photographic Company under direction of Army Pictorial Service became activated on 24 February 1945 at Trespiano, Italy. Was composed of 17 Officers, 1 Warrant Officer, and 130 Enlisted Men, and was under the command at that time of Captain Ned. R. Morehouse.
A photographic company is unique in its operation as their coverage on a wide front makes it both possible and necessary for all of its combat photo teams to act, for the most part, as their own. That is to say, while there are certain missions to cover, the photographers are at liberty to go as far as they like, of course, always keeping in mind that a "dead" photographer is worth very little to his organization. Only when a man can go up, get the pictures and return, is his value to the unit put to best advantage.
The 196th was attached to the Fifth Army during the closing months of the Italian campaign; from activation date on 24 February 1945 to 1 June 1945 when it returned to Montecatini for redeployment to the United States.
The mission of this command was to gather both still and motion pictures. The pictures to be secured were of many varieties. While their primary objective was to secure pictures of combat, the various missions entailed all types of record, historical, publicity, strategic and others of a morale-building nature. The company had a laboratory, which moved constantly with the organization itself and a well set-up headquarters personnel which had to keep the forward elements of the command teams always supplied with materials and necessities to aid them in completing their hazardous missions. For instance, in keeping the vehicles always read for their difficult journeys through rough terrain. Seeing the food, PX supplies, changes of clothing and photographic supplies were ever on hand. The Headquarters camera repair department had to have the cameras always in top condition. This was particularly difficult due to the many miles that separated the photo combat teams and the headquarters of these teams.
The Company was set up in such a way that there was one photo liaison officer with each Corps of the Army. At this time under Fifth Army, the 196th, with its Army Pictorial Service officer at Fifth Army HQ operated under IV Corps and II Corps. From these corps the liaison officers delegated teams, averaging six for each Corps, composed of one still man, one motion picture man and one driver, and assigned to the various Divisions on the line at the time. From then on each team worked separately, most of the time living at Battalion or Division Headquarters or whatever suitable housing was possible to protect their valuable equipment. Seeing that the equipment was maintained in perfect running order was a prerequisite to all other requirements. Working closely with Division CP's these teams found out where the best material was to be found and where to go to secure it. The team would then proceed down through Regiment, Battalion, Company and even platoon if there was sufficient safety to make the pictures and yet return with them.
There were many problems to consider. One of them was the difficult terrain over which the teams traveled and the absolute necessity of getting their pictures back to Corps. After all, old pictures, of a particular news and noteworthy occasion are of no value if too late to tie in with the news of that particular sector engaged at the time. Getting the pictures to Corps, then flown back to rear laboratories and processed and flown to the States after censorship, was carried on with the least possible delay. Another thing was the constant traveling forward and backward under constant enemy fire. However, due to the set-up of the organization where it worked closely in touch with all echelons of the Division it was assigned to, the teams performed their work with speed and efficiency.
One of the most hazardous and yet most important duties was that of oblique terrain photography for the S-3's of the Divisions. This work was little known to the general public and yet was a key function in the final stages of the Italian Campaign. From these terrain photos Divisions worked out their overlays, artillery used them for plotting and the enlarged prints were valuable all the way down to the platoon in determining patrol action or counter measures against enemy positions. The work done by the 196th in terrain photo work was highly praised by Major General V.E. Prichard, the Commanding Officer of the 1st Armored Division and by Fifth Army Lieutenant General Lucian K. Truscott himself, besides the individual commendations by many of the Division officers. This work was carried on extensively for the 91st, 85th, 88th, 34th and 1st Armored Divisions during their actions in the North Appennine Mountains south of Bologna.
It is important to note here that the cameramen as brought into the company were pleased where their particular qualifications could do the most good. A good news man, who acted as such in civilian life, was sent to forward areas, where after being broken in by the men already a long time in the combat zone, would relieve another man in need of rest or a change of sector. Some cameramen remained in rear areas for PRO work and the other photo necessities and at the same time became more aware of the combat work going on in case they were required to join a combat team. The motion picture men saw rushes periodically of their work and the still men received back any culled negatives and both received periodic critiques on their work to keep abreast of improvements and recommendations. Thousands of feet of movie film shot was used by the major newsreel companies, the Signal Corps films such as Screen Magazine and Combat Bulletins and other specially prepared films like "San Pietro", "Army Nurse," "Cub Pilot", and many other vital films both an aid to training and also of general public interest. The pictures made by the still men were used extensively by all major photographic syndicates and newspapers, Yank Magazine, ETO newspapers and hundreds of other publications.
It was in the last stages of the Italian campaign, which extended from driving the Germans out of the Appennines,across the Po Valley to their final surrender in the foothills of the Alps. It was a proper meeting when members of the 196th of the Fifth Army and the 163rd of the Seventh Army joined hands across Brenner Pass in the Alps. Some of the outstanding photography of the war was accomplished in the engagements driving the enemy out of the mountains south of Bologna and their utter retreat across the Po Valley and our own speedy chase, including the crossing of the Po River. During these days of a speedily moving front, the photo teams had great difficulty in covering the daily action, returning with it to Corps Headquarters and catching up with the forward elements the same night or the following morning. However, this was done and the first pictures of Bologna is an outstanding example, as the photographs made by members of the 196th were rushed to Fifth Army rear a full 10 hours before any other organization or other cameramen were able to get back with pictures of thie fall of this city. It was this way during the final days when the public in America were daily getting a graphic photographic account of the retreat of the German forces in Italy.
But the job did not end there. As the occupation work grew and war criminals were being sought out, the camera teams were still working with the Divisions. Going on CIC raids, covering occupation work and recording for history all the intricate details even the written word could not secure.
In the meantime the Company Headquarters had moved from Trespiano, Italy, to Verona in order to be able to serve their combat teams over an entire front from Trieste to Genoa along the entire Austrian and French border. However, on 1 June 1945 the 196th was recalled from active duty with the Fifth Army, to be one of the first units for indirect redeployment to the Pacific. This meant, with a tough fight still going on in the Pacific, the 196th would be rushed to the States for a 30-day rest and then on to the Pacific theatre.
On 1 June 1945 the organization set up quarters at Montecatini, Italy and began staging for their redeployment. On 5 July 1945 the 196th arrived at the PBS staging area, Pisa, Italy, and bivouacked while awaiting passage to America. They went aboard the USAT Henry Gibbons at Livorno, Italy for embarkation on 12 July 1945. Left port of Livorno 14 July 1945 and arrived at Camp Patrick Henry, Virginia, 25 July 1945 where the ment went to their respective reception centers for their 30 days recuperation and rest before assembling again at Camp Gruber, Oklahoma.
On 27 July 1945 the 196th Headquarters was set up at Camp Gruber, Oklahoma, and they began POM training for overseas deployment on 10 September 1945. First Lieutenant Franklin Cave assumed command 25 September 1945 and the 196th Signal Photographic Company became inactivated 2 November 1945.
/s/ FRANKLIN CAVE
1ST Lt., C.M.P.
Commanding
(Posted November 21, 2005)
Unit Roster
196th Signal Photo Company*
Florence, Italy - 1945
Last Name First Name

Address City

State

Ager Edward R.

Baker Charles C.

Bergstrom Canton A.

Berry Ernest G.

Blosser Robert D.

Brinser Jack W.

Bronson Roland L.

Brooks Martin G.

Brooks Walter E.

Brown Albert L.

Bull Marshall H.

Byndas Mike

Campbell Max

Campshure Theodore J.

Cardinallo Joe

Carlson Ralph E.

Cisler Henry J.

Coffman Charles Q.

Collins Lloyd F.

Cook Louis R.

Crane Roger

Daley Robert E.

Dattilo Leo

De Stefano WiliiamJ.

Edwards Robert G.

Elson Saul

Emery Lawrence

Emrich Walter R. Jr.

Erickson Conrad

Falcone Phillip F.

Fellon ChesterW.

Feuer Alfred

Fischer Seymour

851 Harper Ave. Los Angeles

649 Gillette Ave. , SW Atlanta

2131 Fawcett Ave. So. Tacoma

409 Piedmont St. So. Greenwood

RFD#2 Barnett

Main St. Box 86 Landisville

145-1888thAve. Jamaica

924 N. Topeka Ave. Wichita

Route #1 Longview

Box 384 Ford City

9 Walling Ave. Oneonta

777 Braydon Ave. Cleveland

833 Bond St. Green Bay

1481 W. Erie St. Chicago

132 Thayer St. Jamestown

1040 S. 25th St. Manitowoc

Grant St. Honorville

27 E. Middle Turnpike Manchester

3672 San Pasqual St. Pasadena

115 N. Main St. Webb City

330 E. 29th St. New York

2720 Olive Point St. Joseph

1905 11th Ave. Blair

Box 213 Ashland

2132 Prospect Ave. Bronx

693 Washington Ave. West Haven

28 Brighton St. Tottenville, Staten Island

509 Fourth Street. NE Watertown

2767 Morris Ave. New York

General Delivery Wauna

805 E. 182nd St. Bronx

1169 E. New York Ave. Brooklyn

CA

GA

WA

SC

MO

PA

NY

KS

WA

PA

NY

OH

WI

IL

NY

WI

PN

CT

CA

MO

NY

MO

PA

OH

NY

NY

NY

SD

NY

OR

NY

NY

Fryou Charles R.

Getty George H.

Graning Paul D.

Grubb Howard W.

Harris Julian L.

Harris William H. Jr.

Hartman

Houghton

Hauser Albert A.

Hibler Calvin E.

Hillyard Arthur V.

Jones Gordon S.

Kaemmerer W ilbert F.

Kendrick Robert M.

Klapach W illiamS.

Kosseff Jerome W.

Kreider Harry C.

Kurland David D.

Lally Vincent R.

Lambert Joseph R.

Lawson Junior

Lees David B.

Levine Melvin

Leviton Jay B.

Lilt Norman K.

Loeb Frederick R.

Long Paul F.

Loughran Thomas R.

Luban Sidney

Maloney Timothy D.

Morley William

Markman Martin

Mason John T.

Mattrick Thomas P.

1416 9th SI. Biloxi

RFD#2 Sparta

122 N. Belmont Glendale

357 W. Indianola Ave. Youngstown

108 Kent SI. Brooklyn

31 Oakwood Ave. West Hartford

451 Kingston Ave. Brooklyn

Route #2 Box 82 Bortram

2800 Taylor SI. MI. Rainier

2118 Martina SI. Torrance

42nd & N. Belt Line Belleville

2712 Cleveland SI. Hammond

326 21st SI. Brooklyn

2095 Creston Ave. Bronx

309 19th Street. Union City

437 S. Cloverdale Ave. Los Angeles

120 Ridley Ave. Sharon Hill

P.O. Box 613 Rochester

Route #1 Canton

14618 Mission Rd. Glendale

1544 President St. Brooklyn

Veterans Admin . Bronx

192 Bay 34th St. Brooklyn

648 E. Chelten Ave. Philadelphia

323 Mission Rd. Glendale

1621 Nostrand Ave. Brooklyn

2525 W. Division SI. Chicago

945 Arlington Ave. Plainfield

3204 Stephenson PI. NW Washington

1566 78th SI. Brooklyn

8545 Dumbarton Detroit

148 Ingleside Worcester

MI

MI

CA

OH

NY

CT

NY

TX

MD

CA

IL

IN

NY

NY

NJ

CA

PA

NH

GA

CA

NY

NY

NY

PA

CA

NY

IL

NJ

DC

NY

MI

MA

Mayer Francis L.

McBride Delbert E. Jr.

McQuarrie Donald G.

McWhirter William D.

Melkonian Melkon T.

Metzger Maynard E.

Morang Frank L.

Morehouse Ned R.

Morgan Harry B. (*3131st Signal Photo Co.)

Mulcahy John J.

Mulhair Francis P.

Murchio Louis J. Jr.

Nelsen Nels P.

O'Connell Edmund Burke

Ortiz YsabelM.

Owen James M.

Parthemos James

Peacock John R.

Peters

Peterson Earl T.

Phillips Daniel P.

Pierson Linwood J.

Pitts Robert L.

Poling Kenneth C.

Pollock Adolph J.

Reuter FloydW

Robinson Sidney

Rubin Jack

Rusbar Chester G.

Saphier Jacques J.

Schilling Carl F.

Schmidt Robert H.

Schultz Herbert A.

Seligman Irving

5426 Harper Ave. Chicago

106 Kingsland Ave. Lyndhurst

27 Fairview Ave. Thompsonville

1180 Arden Ave. SW Atlanta

8 Newport St. Worcester

6204 S. Greenwood Ave. Chicago

St. Petersburg Yacht Club St. Petersburg

312 College Court Reno

5614 S. Green St. Chicago

5 Terrace Place, Yonkers

70 Ayers Court West Englewood

Williston

3131 Long Blvd. Nashville

660 E. Valley Blvd. EI Monte

310 Arch St. Fayetteville

1802 Clifton Ave. Baltimore

1014 Lafayette St. Ogdensburg

702 S. Denver St. Tulsa

1536 Logan Ave. Youngstown

Greenwich St. Alloway

RR#1 Ladoga

RFD#3 Van Wert

P.O. Box 655 Rosenberg

RR#1 Milan

Route #1 Box 52 Dunlow

140 E. 52nd St. New York

37 Durkey St. Forty-Fort

880W. 181stSt. New York

613 N. Hampton St. Bay City

167 Rodford St. Yonkers

RFD#3 Harvard

327 Renner Ave. Newark

IL

NJ

CT

GA

MA

IL

FL

NV

IL

NY

NJ

ND

TN

CA

NC

MD

NY

OK

OH

NJ

IN

OH

TX

IN

WV

NY

PA

NY

MI

NY

IL

NJ

Shepard William R

Shepherd Francis L.

Spallucci Joseph

Spirito Severino F.

Spradling Otis

Stewart David R

Tacey Robert F.

Thomas Ralph E.

Tischler Samuel T.

Tobin Edward G.

Tomczak Erazm

Townsend Pearl W.

Walden

Walters Joseph M.

Wever John S.

White Gilbert G.

Wiedenmayer Donald

Wintermute Dayton RD.

Wisneski Roland J.

Yaskell Peter

Yung Ben L.

Zube Frank B.

1319 Dorothy SI. Rhindelander

546 Sanford Ave. Akron

29 W. Summerset SI. Raritan

37 Coles SI. Jersey City

Marbia

RI. #1 Box 93 Ontario

75 Lake Street Liberty

5014 Aurora Blvd. Canton

124 Old Mamaroneck Rd. White Plains

19 Kingsley SI. Allston

32 3rd SI. Passaic

RR Carpenter

19 Sabne Ave. Marbeth

224 S. Queen SI. Martinsburg

5026 Decatur SI. Denver

PO. Box 304 Worcester

700 16th Ave. West Kirkland

655 Elfelt SI. SI. Paul

18 Reservoir PI. Belleville

9232 West Pieo Blvd . Los Angeles

1011-A W. Chambers SI. Milwaukee

WI

OH

NJ

NJ

KY

OR

NY

OH

NY

MA

NJ

OH

PA

WVA

CO

VT

WA

MN

NJ

CA

WI
(Updated September 9, 2012, and September 4, 2018.)